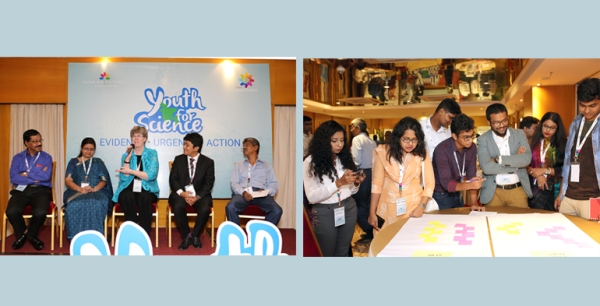 Desk:Farming Future Bangladesh, a comprehensive communications initiative under the auspicious of Cornell University's Alliance for Science, launched its "Youth for Science" campaign on July 27, 2019 at a hotel in Dhaka.
The campaign, entitled "Youth for Science: Evidence, Urgency and Action," is devoted to engaging and empowering youth in initiatives aimed at sharing evidence-based information and improving understanding of modern science and innovation, including the use of agribiotechnology to enhance food security, improve environmental sustainability and raise the quality of life.
Youth constitute one-third of Bangladesh's population. They have a significant stake in ensuring sustainable development, which they have expressed through their involvement in the movement to improve access to innovation and technology. It is necessary to have effective youth engagement to ensure their voices and actions contribute to improved public understanding of science, including innovations related to food and agriculture.
The official launch event was attended by youth and academics from 11 leading public and private universities of Bangladesh, as well as prominent scientists and officials from the public sector, agricultural industry and donor agencies.
"Youth can play a vital role in developing new technologies to overcome existing development challenges, bringing in new and traditional solutions with their dedication and creativity," said Dr. Jiban Krishna Biswas, National Consultant IRRI and Advisor to FFB, in the opening session.
Highlighting the urgent need for fact-based information-sharing, Dr. Hamidur Rahman, Advisor to the Ministry of Agriculture and Farming Future Bangladesh, said: "We need youth in agriculture and the food sector to eradicate hunger and hidden hunger from our country."
Prof. Dr. Md. Tofazzal Islam of Bangabandhu Sheikh Mujibur Rahman Agricultural University emphasized the timely initiatives of the "Youth for Science" campaign. "We should invest more resources in youth and younger generation scientists for self-sufficiency of the research and innovation sector of Bangladesh," he added.
Dr. Aparna Islam, Country Manager of South Asia Biosafety Program and Dr. Sudhir Chandra Nath, Head of Business of ACI Seed shared expert opinion highlighting the importance of youth engagement for sustainable development of food and agriculture sector of the country.
"We are committed to engage and empower youth for better understanding of science and agricultural innovations, including agribiotech, through the campaign activities," said Arif Hossain, CEO and Executive Director of Farming Future Bangladesh.
Specific campaign objectives include leadership building, mobilizing youth and forming partnerships with science outreach youth groups and science clubs from the country's respected universities and institutes, as well as forming new organizations.
Scientists, academics and students identified the challenges and way forward through dialogue and participatory sessions during the program launch.
Farming Future Bangladesh will continue working with the public universities, including, but not limited to, the University of Dhaka, Jahangirnagar University, Sher-e-Bangla Agricultural University, Bangabandhu Sheikh Mujibur Rahman Agricultural University, North South University, University of Liberal Arts Bangladesh, Bangabandhu Sheikh Mujibur Rahman Science and Technology University, East West University, Independent University Bangladesh, Jagannath University and BRAC University, all of which were represented at the campaign launch.
Farming Future Bangladesh (FFB) is a comprehensive communications initiative to help improve awareness about modern agricultural innovations, including crop biotechnology, in Bangladesh. Based in Dhaka, it operates under the auspices of Cornell University's Alliance for Science, USA, with support from the Bill & Melinda Gates Foundation.