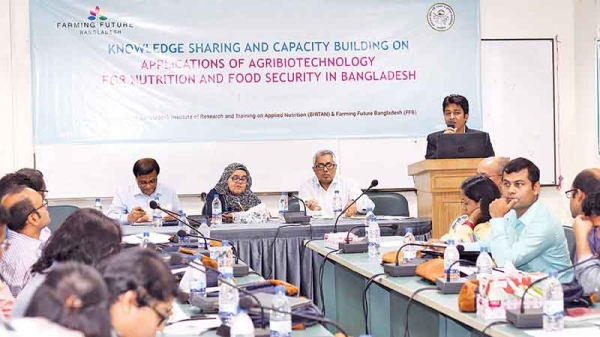 With an aim to raise awareness of agri-biotechnology among the nutrition and medical communities, Farming Future Bangladesh (FFB) organised training on the applications of agri-biotechnology in ensuring nutrition and food security. The training, 'Knowledge sharing and capacity building on applications of agri-biotechnology for nutrition and food security in Bangladesh', was hosted in collaboration with the Bangladesh Institute of Research and Training on Applied Nutrition (BIRTAN) at the head office of BIRTAN in the capital yesterday, says a press release.
Emphasising the importance of genetically modified (GM) crops in boosting the nutritional content of the staple foods, Zharna Begum, Additional Secretary and Executive Director, BIRTAN said, "We need more efforts like this to make people aware of the scopes and benefits of agricultural biotechnology. GM crops can make a significant impact on meeting nutritional needs of the mass people."
Dr Md Abdur Rouf, additional secretary, Ministry of Agriculture, Md Arif Hossain, CEO and Executive Director of FFB, addressed the programme.