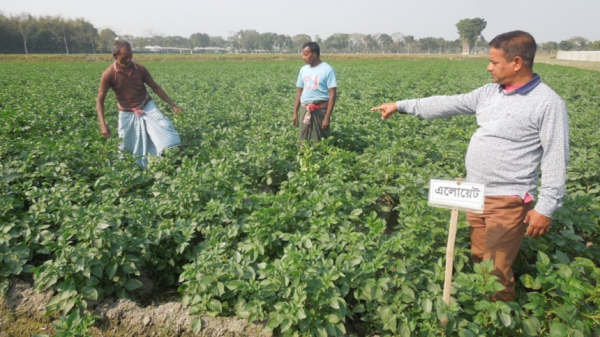 With the objective to eradicate late blight disease in potato, Bangladesh Agricultural Development Corporation (BADC) in Domar upazila is currently growing trial varieties of the crop that is resistant to the disease.
Based on the success of growing the trial varieties at its Foundation Seed Potato Production Farm (FSPPF) in Domar, the BADC hopes to disseminate the variety among farmers across the country by the next potato cultivation season.
Bangladesh Agriculture Research Institute (BARI) did research on two foreign varieties to develop two trial varieties. In November last year, National Seed Board (NSB) approved the trial varieties.
Potato farmers in the country are now awaiting a better harvest from the new seed after incurring losses to the late blight disease for years.
Enamul Haque, deputy director of FSPPF, said they cultivated the new varieties on trial basis on 10 acres of land and hope to get a yield of more than 100 tons.
After their trial cultivation is completed successfully, the Department of Agricultural Extension (DAE) would promote the new seed to the farmers who waited long for such a variety, he added.
Amal Kumar Das, principal scientific officer of BARI in Panchagarh, said they modified the late blight resistant potato varieties according to local climate from two varieties -- Alouette and Carolus -- that they had imported from the Netherlands.
He also said the modified varieties were named BARI-90 and BARI-91.
Explaining their work process, he said "We conduct esearch for years and observe the adaptation tendency [of a variety] in our climate."
DAE deputy director in Nilphamari Nikhil Chandra Biswas said late blight is considered a curse for farmers as it ruins their potato fields rapidly and they are compelled to spend an additional Tk four thousand per acre to spray pesticides at least five times before harvest.
"We are instructed by the higher authorities to popularise the newly released late blight resistant potato seed varieties among farmers and we are hopeful that they [farmers] would start cultivation from next season with much enthusiasm," he added.