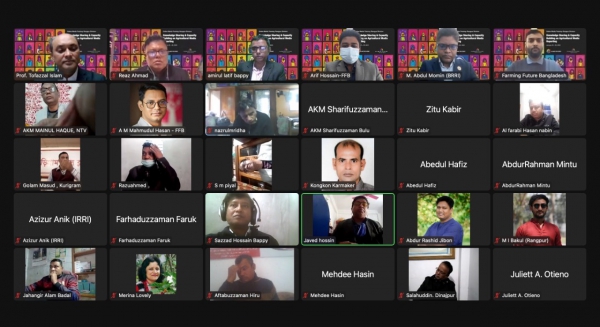 Experts and media professionals agreed on evidence-based reporting publishing in a capacity-building program.
Dhaka, January 26, 2022: Science and evidence-based information should be key to agricultural media reporting. Scientists, media professionals, and agricultural journalists highlighted evidence-based media reporting in a virtual "Knowledge Sharing & Capacity building on Agricultural Media Reporting" held on January 25 – 26, 2022 for agricultural journalists of the Rangpur Division.
More than 25 journalists from print and electronic media from Rangpur Division participated in the two days program organized by Farming Future Bangladesh (FFB).
The program was aimed to enhance skills on evidence-based reporting for better understanding of modern agricultural innovations including modernization and commercialization of agriculture, innovation, genetic engineering, gene editing, climate change, nutrition, and food security issues.
Md. Arif Hossain, CEO and Executive Director of the FFB, started the training program by thanking all the participants, panelists, and other dignitaries. He said, "Farming Future Bangladesh is working to improve public perception about the benefits of modern agricultural innovations for sustainable food security in Bangladesh."
He added, "Media and communication professionals play a vital and complementary role for information dissemination and extension of modern agricultural innovation. Sharing evidence and authentic information can be beneficial for farmers and consumers, said Arif Hossain, CEO and Executive Director of the FFB. We should work together to improve the enabling environment for research and innovation in Bangladesh for sustaining food and nutrition security, he added.
"Commercialization and modernization of agriculture will change the whole agricultural system. Young agricultural entrepreneurs can shine their passion and investment with proper and timely information. Media professionals and journalists can create the bridge and synergy among innovators, farmers and entrepreneurs, said Kbd. Hamidur Rahman, Member, Annual Performance Expert Pool, Ministry of Agriculture, in his technical session.
Dr. Jiban Krishna Biswas, Executive Director, Krishi Gobeshona Foundation (KGF) said, "With limited resource and growing population, we need technological advancement to ensure food production. Genetic engineering and other modern innovations can solve many harvesting problems and allows the crop to keep its nutritional value intact"
Dr. Md. Tofazzal Islam, Professor & Director of Institute of Biotechnology and Genetic Engineering, BSMMU, stressed spearheading accurate scientific information and avoiding conspiracy theories in the light of agricultural development. "Biotechnology has enormous potential, and we should invest more in research and innovation so that we can develop our own capacity to address future food security challenges, he said in his session.
Participating journalists shared their experiences and identified key working areas in relation to the priority of the region. They also stressed the importance of access to information and the culture of fact-based reporting in the program. Among others, Dr. Ahmad Salahuddin, Senior Associate Scientist of IRRI and (International Rice Research Institute), and M. Abdul Momin, Senior Communication Officer Bangladesh Rice Research Institute (BRRI), highlighted the importance of nutrition enriched rice in the training session.
Farming Future Bangladesh has been actively engaging journalists and sectoral experts for skill development and improved access to agricultural innovations. The science-based organization organized similar capacity-building programs and provided training to more than 75 agricultural journalists of Dhaka, Rajshahi, and Khulna divisions. It also awarded Media Fellowship to six agricultural journalists in 2021.