On Thursday, 26th January, Farming Future Bangladesh (FFB) hosted a workshop titled "Role of Imams in Bangladesh in Ensuring Food Security through Agricultural Innovation and Applications of Agri Biotechnology" at The Islamic Foundation, Barisal. The workshop brought together experts from fields of agriculture and food security to discuss the role of imams in promoting sustainable agricultural practices and ensuring food security in Bangladesh.

Over 50 imams gathered together at The Islamic Foundation to attend the workshop. During the daylong event, participating imams were introduced to leading experts and scientist who are specialists in their respective fields.
Attendees participated in panel discussions and interactive sessions on topics such as the integration of Islamic principles into modern and sustainable agricultural practices, the role of imams in educating farmers and promoting sustainable agriculture and agri-biotechnology of the agricultural sector in Bangladesh.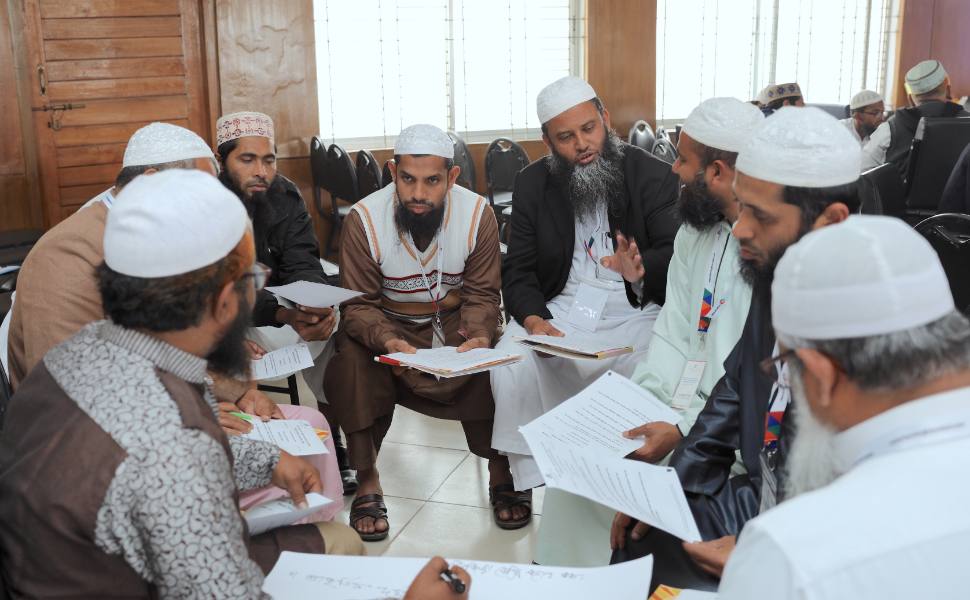 By utilizing their position as respected leaders in the community, Imams have the potential to bridge the gap between traditional agricultural practices and modern agri-biotechnology, leading to a more sustainable and food secure future for all." - Sadique Uddin, Project Management & Communication, FFB.
Islamic teachings say we should take care of the earth and help those who need it most. Imams can teach and encourage people in their communities to use farming methods that are good for the environment." - Muhammad Rafiq-ul Islam, DPD(Admin & Program), Mosque based Child and Mass Literacy Program Project, Islamic Foundation.

Adopting sustainable agricultural practices and GM crops such as Bt Brinjal and Bt Cotton is crucial for addressing the challenges faced by the agriculture sector in Bangladesh, which is the backbone of our economy and a major source of employment as well as food security" - Dr. Md. Tofazzal Islam, Professor & Director of Institute of Biotechnology and Genetic Engineering, Bangabandhu Sheikh Mujibur Rahman Agricultural University (BSMRAU).

The workshop was well-received by attendees, who praised the event's diverse range of perspectives and valuable insights. Many participants expressed a desire to continue the conversation and collaborate to create a more sustainable and food-secure future for Bangladesh through the innovative use of agri-biotechnology.