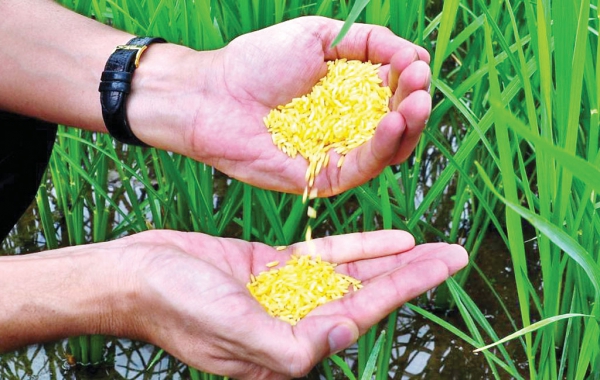 Visiting Nobel Laureate Sir Richard John Roberts made the announcement at a regional seminar in Dhaka after he held an impromptu meeting with the ministers of agriculture and environment on Sunday
Bangladesh will take a decision on the release of the world's first Vitamin-A enriched rice variety by November 15.
Visiting Nobel Laureate Sir Richard John Roberts made the announcement at a regional seminar in Dhaka after he held an impromptu meeting with the ministers of agriculture and environment on Sunday.
Vitamin A enriched rice, popularly known as Golden Rice, has been in the regulatory approval process since November 2017 and the Ministry of Agriculture has long been pushing the Environment Ministry for its seal of approval.
Golden Rice is rich with beta carotene, also known as pro-vitamin A, a substance human bodies can convert to Vitamin A. Both Bangladesh and the Philippines have readied for release of the world's first Vitamin-A enriched rice varieties, heralding a new era in the fight against Vitamin A deficiency (VAD).
According to the World Health Organization's global VAD database, one in every five pre-school children in Bangladesh is vitamin A-deficient. Among pregnant women, 23.7% suffer from VAD.
The International Rice Research Institute (IRRI) says VAD is the main cause of preventable blindness in children, and globally, some 6.7 million children die every year and another 350,000 go blind because they are vitamin A deficient.
Once released, Golden Rice will be the culmination of a long-touted partial remedy for VAD.
Coming to Dhaka to deliver a keynote speech at a 'Regional Seminar on GMO Crops: Policy and Practices in South Asia' at North-South University on Sunday, the 1993 Medicine Nobel winner Sir Richard Roberts enquired about the Golden Rice release development with the organizers. That immediately prompted Agriculture Minister Dr Mohammad Abdur Razzaque, who was also present at the seminar, to call up his cabinet colleague Environment Minister Md Shahab Uddin and set up an impromptu meeting.
Several hours later, as Sir Richard Roberts returned to the seminar venue after holding his meeting with the ministers, he spoke at the concluding session and informed that a final decision on Golden Rice will be taken by November 15.
"If Golden Rice is approved here (in Bangladesh) that will be a big message for the whole world, where 3,000 children die each day owing to VAD," said the English biochemist and molecular biologist credited for developing the mechanism of gene splicing, an important source of protein diversity.
Current status
Golden Rice is a transgenic variety, as a gene from maize has been infused into rice paddy for beta carotene expression. That is why a biosafety approval is a prerequisite for varietal release in Bangladesh. To complete the biosafety review process, Bangladesh Rice Research Institute (BRRI) lodged an application with the National Technical Committee on Crop Biotechnology (NTCCB) at the Ministry of Agriculture on November 26, 2017. It then forwarded the application to the National Committee on Biosafety (NCB) at the Ministry of Environment on December 4, 2017.
Rice does not contain beta carotene. Therefore, dependence on rice as the predominant food source generally leads to Vitamin A deficiency, most severely affecting small children and pregnant women.
Consumption of only 150 grams of Golden Rice a day is expected to supply half of the recommended daily intake (RDA) of Vitamin A for an adult. People in Bangladesh depend on rice for 70% of their daily calorie intake.
Policy Colloquium
Speaking as a panellist at the Policy Colloquium session at the seminar organized by the South Asian Institute of Policy and Governance (SIPG) of North South University, Professor Dr Zeba Islam Seraj said there should be a specialized cell within the environment ministry to deal with the GMO (genetically modified organism) events. Otherwise, the issue of advancing the frontier science and release of future biotech products would suffer, feared Dr Zeba, who heads the Department of Biochemistry and Molecular Biology at DU.
Anwar Faruque, an ex-agriculture secretary, emphasized on investing more in research and development of agro-biotechnology, while Lal Teer Seed Limited's Managing Director Mahbub Anam shared some of the private sector's experiences about research and development.
Another panellist and Executive Editor of Dhaka Tribune Reaz Ahmad said most of the anti-GMO campaigns are not founded on any scientific basis.
"These arguments are placed mostly out of ignorance," Reaz Ahmad said, emphasizing the need for spreading science education among the masses.
Former director general of Bangladesh Rice Research Institute (BRRI) Dr Jibon Krishna Biswas, and Dr Krishna Prasad Pant, a Fellow of the South Asian Network for Development and Environmental Economics (SANDEE) also spoke as panellists at the colloquium, moderated by SIPG Director Prof Sk. Tawfique M Haque.
Earlier, research scientists, university faculties and experts presented presentations in the business session of the seminar with NSU Trustee Board Member M A Kashem and Vice-Chancellor Professor Atiqul Islam speaking as guests at the closing session.