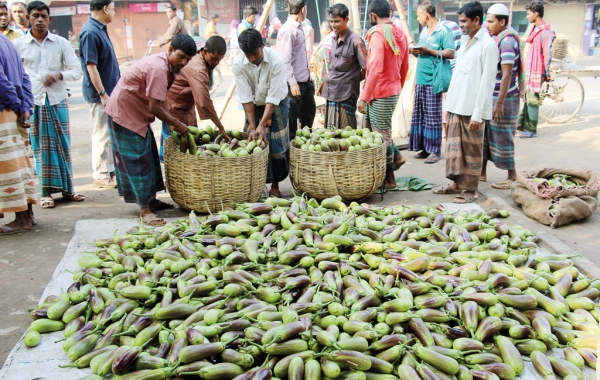 Under the Ministry of Agriculture's behest the study on 1200 farmers was designed and carried out by the International Food Policy Research Institute (IFPRI)
Five years after introducing country's first genetically modified crop – Bt brinjal – government undertook an impact assessment study last year. Yesterday it came up with the good news that farmers got benefitted financially by cultivating Bt brinjal and they are now much less prone to health hazards caused by pesticide sprays.
Under the Ministry of Agriculture's behest the study on 1200 farmers was designed and carried out by the International Food Policy Research Institute (IFPRI).
They shared the study outcome claiming that farmers who cultivated the GM versions of one of the country's most consumed vegetable, gained by 55 percent higher income comparing to their peers growing the non-Bt brinjal.
The genetically modified Bt brinjal has been developed by inserting a crystal protein gene (Cry1Ac) from the soil bacterium Bacillus thuringiensis into the genome of various brinjal cultivars thereby, protecting the crop from infestation of Fruit and Shoot Borer (FSB), the most deadly pest for brinjal.
Experts at a policy workshop held at a city hotel yesterday explained that farmers get themselves exposed to serious health hazards when they apply pesticides dozens of times in brinjal fields in their pursuit to save the crop from FSB.
But with increasing number of brinjal growers in the country now switching towards Bt brinjal, the pesticide poisoning reduced to a third.
IFPRI Chief of Party in Bangladesh Dr Akhter Ahmed told the audience that comprised of agriculture minister, concerned government officials, scientists and development partners, that "Before, FSB pest used to damage up to one-third of brinjal crops. Now, virtually none of the Bt brinjal is damaged by the FSB pest."
"Overall, Bt brinjal farmers enjoyed (during study period) a 55 percent hike in revenues, increasing net profit by over Tk. 30,000 per hectare.
At the programme, he also presented another study report titled 'Agriculture, Nutrition, and Gender Linkages (ANGeL) identifying actions in farming that will most effectively increase farm household income, improve nutrition and empower women.
In his speech as chief guest Agriculture Minister Dr Muhammad Abdur Razzaque expressed the government's firm resolve to pursue agro-biotech to face the challenges of growing more food for increasing population despite having resource limitations.
"We've persistent challenges of population rise and resource limitation. On top of that we've now the emerging challenges of global warming and developing stress-tolerant crop varieties," the minister added.
In January 2014 Bangladesh was the first country in South Asia to introduce any genetically modified (GM) food crop in the region.
Over the past five years a fifth of Bangladeshi brinjal farmers converted to cultivating – Bt brinjal – a GM eggplant, making it one of the fastest adopted biotech crops ever.
After October, 2013, regulatory approval, then Agriculture Minister Matia Chowdhury handed over Bt brinjal seedlings to 20 selected farmers in four districts on an experimental basis in early 2014.
In 2018, the four Bt brinjal varieties reached out to 27,012 farmers across the country, which constitute roughly 18 percent of Bangladesh's estimated 150,000 brinjal growers.
Of all vegetables produced in the country, brinjal tops the list in terms of pesticide use.
FSB ravages brinjal fields and can cause loss of the crop by as much as 70 percent unless a heavy dose of pesticide is used.
Farmers are found to apply pesticides up to 50 to 80 times in a cropping season against a recommended dose of 25, making the vegetable highly toxic.
Though brinjal is a staple in vegetarian diets throughout South Asia, and one of the cheapest vegetables to procure by resource-poor communities in Bangladesh, a large percentage of the crop does not make it to the market because of FSB infestation.
In South Asia, India, Pakistan and Myanmar have been growing GM product – cotton for many years but Bangladesh is first country to introduce a GM food crop till date. However, consumers in the entire region have been exposed to GM food products for over two decades as majority of them prepare daily meals with imported GM soybean.
India readies Bt brinjal and GM mustard for quite some time now but releases are stalled for conservative regulatory procedures and opposition from green groups.
At least three more biotech products – late blight resistant potato, Bt cotton and vitamin-A enriched Golden Rice – are in the pipeline for their commercial releases in Bangladesh.